the jewel of skagit valley
Tickets Now LIVE!
All tickets include:
✔ Parking & Entry
✔ Access to Unique Photo Ops
✔ Trolley Ride (weather-dependent)
✔ Access to Beer & Wine Garden (21+)
✔ Options for Food & Specialty Espresso
Pet dogs enter free!


Explore Ticket Options
40 years of blooms
Origin of Tulip Town
Founded by Dutch immigrants, Tulip Town has been the jewel of Skagit Valley since 1984. When the DeGoede family retired in 2019, they passed the torch to longtime valley residents who are proud to carry on the Tulip Town tradition.
If you're looking for a family-friendly and dog-friendly tulip experience, you're in the right place! Experience 5 acres of pristine Skagit farmland brimming with over 55 varieties of vibrant tulips.
"A hidden 💎. Such a Heaven on Earth. A great place to breathe pure air, great for family, friends, couples, or solo explorers. Skagit Valley is just a window to a wonderful world."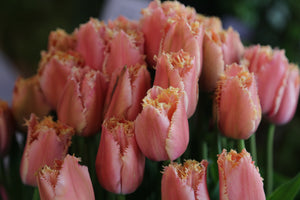 "My happy place... easy access, parking and tons of support-local products offered for sale... beautiful tulips, tractor rides, plus beer and wine."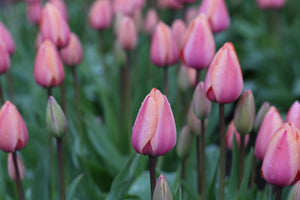 "Tulip Town is a *must-visit* destination in the valley."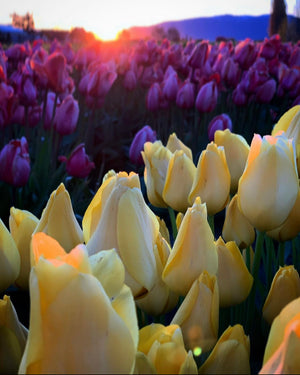 "I had an overall relaxing and refreshing time spent gazing at the beauty of nature. Would highly recommend this special experience be shared with family and loved ones. Definitely worth the drive!"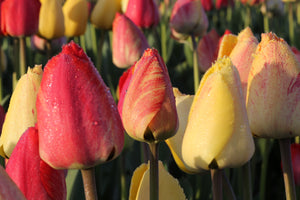 "Super cute place! The staff members are really friendly and informative. If you have mobility challenges, this may be a great way for you to get out in the tulip fields, as they offer a trolley ride right out in the fields."
FAQs
Do you offer refunds?
The farm is open rain or shine during the Tulip Festival and doesn't offer refunds. However, you can change your ticket times based on availability or transfer your tickets to another lucky visitor! Time changes are permitted up until 48 hours prior to your visit.
How do I change my ticket date/time?
Just click on the link in your ticket confirmation email to create an account or log into the account you created when you purchased your tickets. After logging in, select Tickets, View Details, then Edit. Ticket changes must be made at least 48 hours prior to your visit.
Are pets allowed?
We are so excited to announce that we will be allowing dogs at Tulip Town for the 2024 season! Dogs will be allowed with any ticket level with the exception of the Experience Pass.

We ask that:
✔ Dogs remain on a short leash throughout your visit at Tulip Town
✔ You pick up after your dog (we will have doggy clean up stations around the farm)
✔ Your dog is well behaved around people and other dogs
Is Tulip Town ADA accessible?
Tulip Town has paved ADA parking with direct access to our paved indoor barn experience and shops.
We are a working farm and have limited ADA accessibility in the outdoor sections of Tulip Town. We have gravel paths to get to the trolley and around our display gardens. Guests with walkers might have some difficulty on the gravel. The bloom field is often muddy and not accessible for walkers and wheelchairs. 
Our trolley does not have wheelchair accessibility due to the 4 stairs necessary to enter and exit the trolley.